Our Team
At SpeechMatters, we offer consultation and training support to childcare workers, educators, families, and all staff who work with people with communication needs.
Aisling Keogh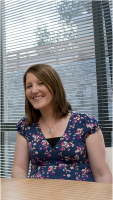 Aisling Keogh qualified as a Speech and Language Therapist from the University of Essex, Colchester, England. She has worked in both the private and public sector. Aisling is experienced in working with adults and children with communication delays and disorders such as; stuttering, specific speech and language delays and disorders, dysphonia (hoarse voice), autism spectrum disorders and intellectual disability. As a certified Hanen 'It Takes Two to Talk' clinician, and Elklan Tutor, Aisling has delivered individual and group training sessions to teachers and childcare workers in schools, montessories, playschools and the home, to help them support children with specific speech, language and communication needs, to enhance communication. As a dysphagia trained clinician, Aisling has also worked with adults with acquired communication and swallowing disorders.
Aisling is a registered Lee Silverman Voice Therapy (LSVT) Clinician and delivers voice training to clients with a range of voice disorders including Parkinson's Disease. She has also worked with adults and children with acquired communication disorders and provides training to teachers on voice care. In 2014 Aisling qualified as a European Clinical Specialist in Fluency Disorders. She continues to work closely with the Irish Stammering Association and works with people who stutter.